How can I contact Tushie?
Email us at hello@tushie.co.nz
Join us on Instagram or Facebook @tushiestore
What are your payment options?
We accept all major credit cards as well as PayPal, Apple Pay and Google Pay.
Shop now, pay later with Afterpay!
Laybuy coming soon!
Do you have Afterpay or Laybuy?
Yes we have Afterpay!
Laybuy is coming soon.
Do you sell Bundles or Value Packs?
Mix and match styles and brands with bundles! The perks of a traditional value pack with the option to build it yourself.
Choose any 6+ Reusable Nappies and automatically get 10% off
Add your selected items to cart and discount will apply automatically
How do I use discount codes?
Copy/paste or type the discount code into Discount section at checkout.
Only one discount code can be used at a time. Automatic discount codes will always override any other code and will generally be the bigger discount.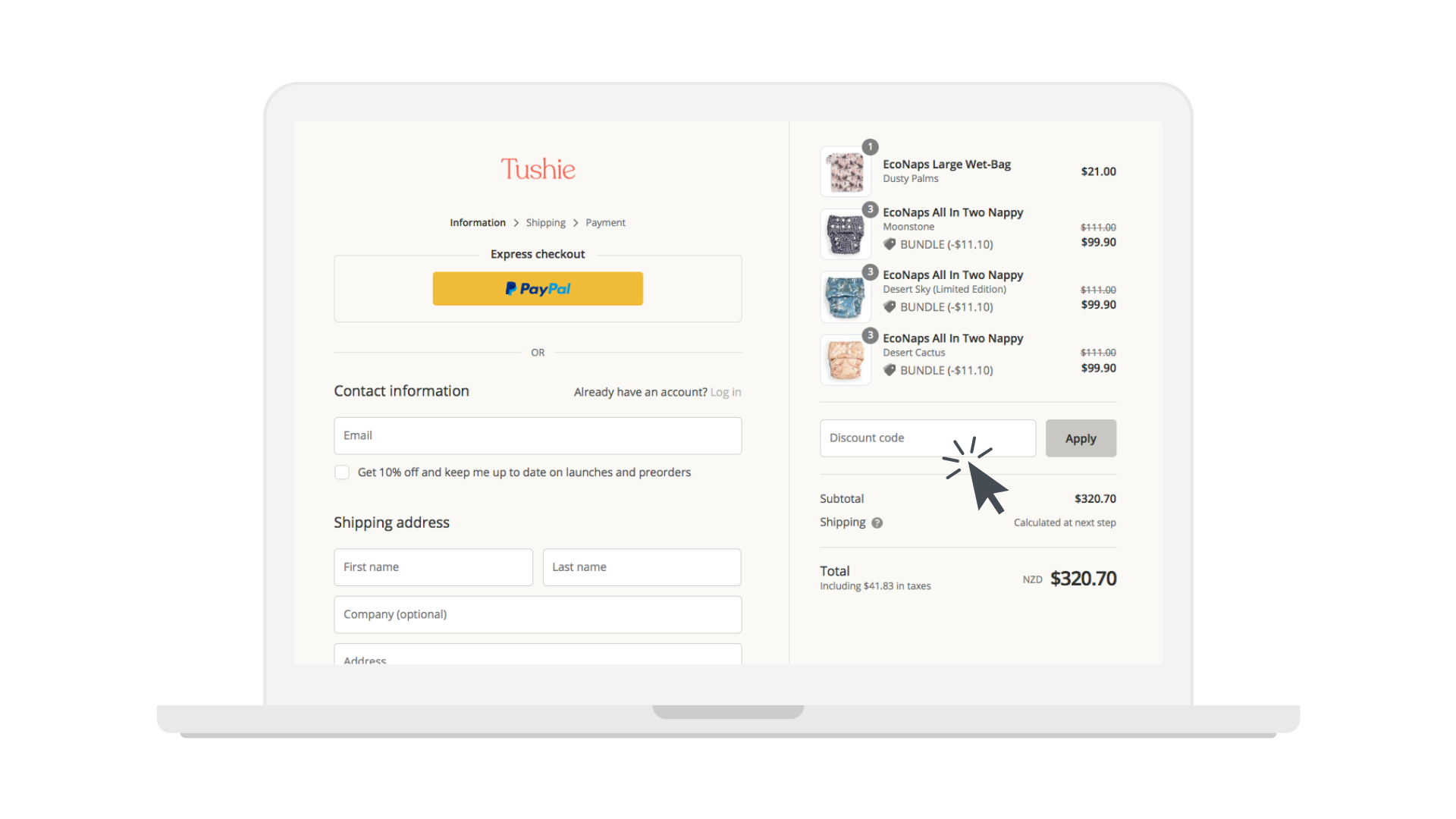 How do I wash my nappies?
FREE SHIPPING | All New Zealand orders over $80 incl. rural addresses
FLAT RATE $7.00 | All New Zealand orders under $80 incl. rural addresses
Is your packaging eco-friendly?
In the first instance we prefer to use 100% curb-side recyclable post-consumer cardboard collected from our community.
Although it is not our preference, in the event that we do not have recyclable packaging on hand we will use compostable mailers - click here to see a list of Compost Drop Off Facilities.
We are working towards 100% Plastic Free Shipping with an aim to be using 100% curb-side recyclable materials for our packaging. Join us on Instagram @tushiestore to stay updated on this journey.
Do you ship Internationally?
We ship New Zealand wide.
Shipping to Australia: We are working on shipping to Australia and Internationally. Update: Will be confirmed within a few days.
Join us on Instagram @tushiestore to stay updated!
Oh No! My item is faulty?
Should an item be faulty, please contact us immediately by emailing hello@tushie.co.nz with your name, order number and details of the fault including a photo. We will send you a pre-paid courier label via email to send the faulty item back to us. Please clearly state if you require a refund or a replacement. If the item purchased is out of stock or no longer available then you will be offered a full refund. Please view the full returns policy here.
How do I use Give 10 Get 10 ?
Give your friends $10 to spend and recieve $10 off your next order when they make a purchase!